Manuals
Blackboard update July 2016 – What's new?
This page provides you with information about the changes in the Blackboard update of July 2016.
In general
The impact of this update for the users – students as well as instructors – is minimal. A few minor changes have been made to existing functionality, furthermore mainly fixes will be applied.
Starting from these releases, Blackboard supports using the Microsoft Edge browser and supports HTML5 Audio–Video Playback.
Furthermore, recently Blackboard launched a new, user-friendly mobile app for Students: BB Student.
The update contains technical improvements for Blackboard to maintain the stability and security.
You will find more detailed descriptions of the changes below.
Removal of Collaboration tools
With this update the Collaboration tools have been removed from Blackboard. The Collaboration tools included the Chat and Virtual Classroom within Blackboard courses. These tools were reliant upon Java to function. Due to the continuing problems with Java and diminishing support of Java, Blackboard has decided to discontinue these tools.
The Collaboration tools were rarely used within the UU.
Mobile platforms: BB Student

BB student is especially designed for students and is available for Android and IOS platforms. The new design can easily be used on Mobile Phones too! Its design is completely new and compared to Mobile Learn it is more user friendly.
If you consider the design of Mobile Learn, you can see that it has a structure based on the courses you follow as a student. If you need information about assignments, announcements, results etc., you will initially need to open the specific course.
This is different for BB Student: it takes into account that students like apps to work fast and efficient. The app directly shows this from start: it opens the 'Activity Stream': this is a bundle of new announcements and new or unfinished assignments. Furthermore, also assignments are accumulated in their own overview, just like deadlines do. If appropriate, you are still able to go to the details of your course, to be able to look for specific information or to make the assignments, but the user interface looks more docile and synoptic than Mobile Learn did.
One final big difference is that BB Student returns to the Web version of Blackboard less often than Mobile Learn does, when a functionality has not been implemented in the app (as is the case with Portfolios). If BB Student has to go over to the Web version, you will firstly be presented with the question whether you want this or not. This also shows, that BB Student adapts itself more to the platforms Android and IOS.
Announcement duration new default value
If you create an announcement, the default setting for duration used to be 'Date Restricted'. In the new release, the default setting for duration will be 'Not Date Restricted'.
Time restrictions for Announcements do not appear to be used very often, therefore the default setting is changed.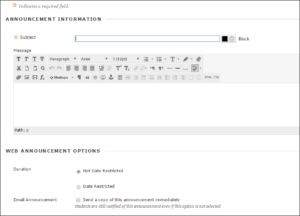 Navigation between Discussion Threads
If you would like to navigate from within a thread to another discussion, you do not have to return to the main page of the discussion board, but are able to go to the next discussion directly.

Rubrics
The possibility to use a 16 value rubric. This rubric originated from the LEAP Initiative (Liberal Education and America's Promise). More information about this initiative can be found at https://www.aacu.org/value/rubrics.
Updates accessibility
A few enhancements have been made to improve the accessibility:
If you are creating a thread in a Discussion Board, than the Forum Description will be shown on the page for information purposes.
While creating a hot spot question, you will be able to use the Image Alternate Text Box.
In the Content Editor, the size of the headers in Edit Mode will be adjusted to the size in the View Mode, which is useful when you are editing text.
To prevent problems, the special characters in filenames will be substituted by underscores (_) if you are doing an upload of such a file.