Assessment tools and the Grade Center
Download Assignments per (work) group
In Blackboard you can download submitted assignments per workgroup, for example when you have to grade a specific group of students. The assignments are downloaded in a zip file. Conditions for this are:
the students have been added to a group in Blackboard
the groups are visible (available) to students in Blackboard (Groups >> Edit >> Make group visible to students >> Yes)
the students have submitted the assignments as an attachment. (Written submissions that are directly written in Blackboard are not downloaded).
To download the submitted assignments per group:
– Go to the Grade Center.
– Click Manage at the top of the bar.
– Click on Download assignments in the drop-down menu.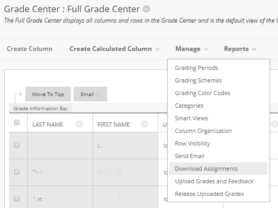 – Click the name of the assignment, for which you want to download the assignments.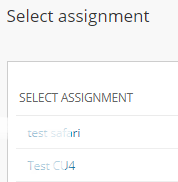 – You will be directed to an overview screen. Here you can select users whose submissions you want to download. You will see behind the name the user in which group the student is and whether they have submitted something and, if so, at what time.
Downloading the assignments per group:
– Make sure you can see all students in the user list. Click "Show All" or "Edit paging" under the user list to view all students enrolled in the course.
– Under the list of names, select the group from which you want to download the submitted assignments. You can select one or multiple groups at a time to download.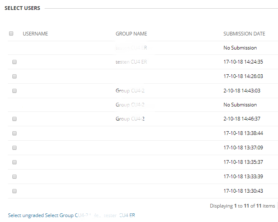 – You can enter a comment in the Package comment section. You can use this for example as a mark of the downloaded package, when you view it via View old Downloads.
– When you download the assignments, an Excel file is also downloaded in the downloaded zip file. Here you can enter the grades of the sumbitted assignments. This file is used if you want to grade the assignments offline. You can find more about offline grading here.
– Click Submit to download the assignments.
– You are directed to a new page.
– Click Click here to continue behind 'Process has finished successfully'. The zip file will now be downloaded.

– The zip file will contain the submitted assignments per student.