Assessment tools and the Grade Center
tests and the Grade Center
In Blackboard's Grade Center, students' results are stored and kept up to date. All course participants are registered in the Grade Center, and for each test, assignment or survey you make available in a course, a column is automatically added in the Grade Center.
At the intersection of row and column, the score obtained or the status of a test or assignment is shown for each student. The following symbols may be used: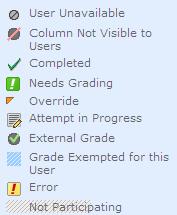 For completed surveys, the Completed symbol (tick mark) is used.